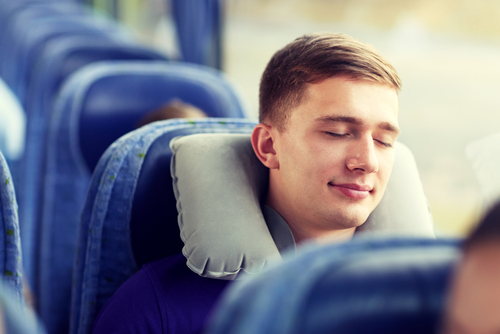 06 Jun

Why Coaches Handle it Best

So, you've got a group of teens from your church congregation headed to a camp for a week this summer, is that appropriate? Or an upcoming ski trip for all the corporate partners and their spouses? Or a holiday tour covering a large area over a couple of days with a group of seniors? Or a college group that needs transportation to a neighboring state for a competition? Or some other big group with a transportation need for any type of upcoming occasion? And you're trying to determine the way to shuttle them to and from in the most efficient way?

Okay that should cover nearly everyone under this umbrella.

Here's the scoop: a Motorcoach is the response. And if you ask why, it is really pretty simple: since we could take care of every possible aspect of the transportation, with added comforts thrown in also. Don't believe us? Well. Consider these reasons why we're the way to go, why you should have us treat this shuttle sitch.

We take care of it. Bottom line. When you are planning an event, there are so many aspects to look after. It isn't only the event itself; you might also must take care of entrance fees, lodging and lodging wherever you're going, printing tour and itinerary advice for everybody coming with you, food arrangements, and the list goes on and on and on. So, here's the thing. When you book with us, you won't need to give a single extra notion to fretting about the transport. You may take that one off your plate. Done. We'll take it from there. We will be where you want us to be, even when you need us to be there, and we'll make sure you get where you need to be, when you need to be there, also.

If you're taking a whole group and trying to take care of the transport by carpooling in a lot of vehicles, which can lead to all sorts of problems. The motorcoach simplifies all that. No need to get enough drivers or rely to make sure that you've got enough seats and seat belts, and you won't have to repay petrol money to everyone, either. Get the coach, pay one fee, and also have a seat for everyone. Done.

A coach provides you the peace of mind of getting everyone in the group in the same place. No need to worry about where this car is how far out they are, or why they got delayed. Nope. With everybody in the bus, it is the simplest way to understand where everybody is, and also to arrive at your destination as a group.

It is less of a headache. In fact, there's no hassle. Let's explain. If you have got several different drivers, you have to figure out where everybody is riding, how to account for everybody, arrange different pick up or assembly locations, etc and on and on. If you get a trainer, it is easy. One meeting location, one motorist, one pick up time. No more hassle, no more confusion.

Storage space. Alright, this is a huge plus. When you have got a bunch, They always have things. Guaranteed. And making certain that there's enough space can be tricky sometimes, based on what your activity is or where you are going and what that entails. However, when you have got a trainer, there is nothing to worry about. Our trainers have ample undercarriage storage to accommodate whatever you need to bring along. Pretty sure you will not have to worry. We've got you covered.

Amenities. Could we get a hallelujah? If you've got a bunch of Children traveling with you, a group of teenagers, or a bunch of company executives, we are pretty sure our amenities can appease any group. For the kids in your life, our trainers come equipped with TV screens and A/V systems to keep them entertained. For your teens, we have WiFi, so they can stay tapped in to that social network that's so important to them. And, if you're a bunch of executives, we have got power, too, which means you can be operating, plugged on the laptop, even en route. Oh, and did we say that we have bathrooms on board, also? These can come in pretty handy when required. #nuffsaid

So, yeah. Do you agree today? Does charter bus Houston look like the obvious answer for Your group transport needs to you, also?