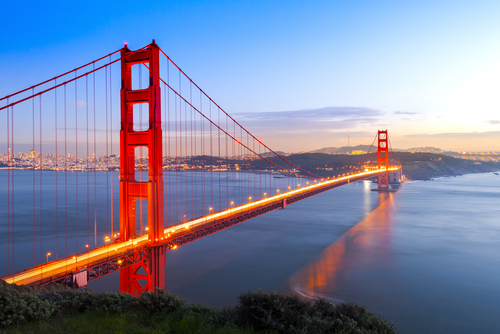 22 Aug

All The Way From East to West

Life's later years are a great time to take a trip, examine websites off your pail list, and hang out seeing more of this beautiful country. Whether you're preparing a retirement trip with pals or getting the entire family together to make some fun memories, a motorcoach is the very best way for a group to travel together. Planning a trip? Take a look at this list for some leading tourist attractions in all 50 states. Wherever you are– from east to west and north to south– there are great deals of things to do and see. No matter where you're going, there's certainly something for everybody!

Alabama: Check out the United States Space & Rocket Center, see lovely Dismals Canyon, or stop at the Cathedral Caverns!

Alaska: Visit Denali National Park, go see the Mendenhall Glacier, or plan your trip to be there during the peak season to see the Northern Lights.

Arizona: Have fun at Havasu Falls, take a look at Hoover Dam, and if you see absolutely nothing else, do not lose out on the splendour of the Grand Canyon!

Arkansas: The Arkansas Air Museum, Mount Magazine State Park, and the charm of Whitaker Point are three locations you'll likely appreciate.

California: Visit the Golden Gate Bridge as you drive into San Francisco, take the grandkids to Sea World, or spend some time to soak up the majesty of Yosemite personally.

Colorado: Rocky Mountain National Park is gorgeous, snowboarding in Vail is a good time, and the Maroon Bells-Snowmass Wilderness is always on point.

Connecticut: Take in Mystic Seaport, The Peabody Museum of Natural History, or the Lake Compounce Amusement Park.

Delaware: Check out The Grand Opera House, the John Dickinson Plantation, or the Hagley Museum & Library.

Florida: You'll love Everglades National Park, you can leave into the magic of Walt Disney World, and the Harry Potter/Diagon Alley show at Universal Studios absolutely does not disappoint!

Georgia: Your group may love seeing the Wormsloe Plantation, the Montaluce Winery, or checking out Panther Creek Falls.

Hawaii: Hawaii Volcanoes National Park is pretty stunning, snorkeling in Hanama Bay is fun, and time at Waikiki Beach is never ever a disappointment.

Idaho: Ski in Sun Valley, see Old Faithful, bison, and bears in Yellowstone National Park, or ride a boat through Hell's Canyon.

Illinois: Stroll the Magnificent Mile in Chicago, trip the Abraham Lincoln Presidential Library and Museum, or take in some art at the Art Institute of Chicago.

Indiana: You might love the RV/MH Hall of Fame Museum, a visit to Cataract Falls, or taking the grandkids to Fort Wayne's Children's Zoo.

Iowa: Check out the Amana colonies, make time for Maquoketa Caves State Park, or stop to see the city of Boone and ride the Scenic Valley Railroad.

Kansas: Take in the appeal of Wichita's Botanica Gardens, walk through the Spencer Museum of Art, and discover a crucial stop on the Sante Fe path at the Fort Larned National Historic Site.

Kentucky: Plan your journey so you can capture the Kentucky Derby, go to the Cumberland Gap National Historical Park, or take pleasure in Mammoth Cave!

Louisiana: You might like the French Quarter in New Orleans, Avery Island, or Houmas House Plantation and Gardens.

Maine: Acadia National Park is quite breathtaking, Boothbay Harbor is satisfying, and treking the Appalachian path does not dissatisfy.

Maryland: Antietam National Battlefield is a fantastic place for taking in some history, and Baltimore Inner Harbor and Rocks State Park ready stops as well.

Massachusetts: Walk the Freedom Trail in Boston, take in Plymouth Plantation and the Mayflower II, or take a walk through Old Sturbridge Village.

Michigan: Isle Royale National Park and Mackinac Island are fun places to check out, and you do not want to miss out on Bronner's Christmas Wonderland in Frankenmuth!

Minnesota: Shop at the Mall of America, take in the North Shore Scenic Drive, or have a look at St. Paul's Cathedral.

Mississippi: Enjoy the quiet of Vicksburg National Cemetery, take a look at the Windsor Ruins, and get to know Elvis much better by visiting his birth place in Tupelo.

Missouri: See the Gateway Arch in St. Louis, enjoy the theme park in Silver Dollar City, or trip the Harry S. Truman Library and Museum.

Montana: Ski at Big Sky, have a look at the Museum of the Rockies, or take in the majesty of Glacier National Park. Nebraska: Check out Chadron State Park, take the family to the Henry Doorly Zoo, or delight in the beauty of the Niobrara National Scenic River.

Nevada: Drive the strip in Las Vegas, check out the Hoover Dam, or ski at Tahoe! New Hampshire: Check out the Portsmouth Harbor Trail or take pleasure in family fun at Clark's Trading Post or Hampton Beach.

New Jersey: Stroll the Boardwalk in Atlantic City, walk Princeton University and the Princeton Battlefield State Park, or check out the Thomas Edison National Historical Park.

New Mexico: The Gila Cliff Dwellings or Chaco Canyon National Historic Park will be enjoyable for the entire group, and everyone will like the history in Sante Fe.

New York: See the Statue of Liberty personally, be blown away by Niagara Falls, or invest some time at the 9/11 Memorial.

North Carolina: Chimney Rock State Park is worth the stop, and the USS North Carolina orThe Biltmore Estate are cool places to see as well.

North Dakota: Your group might enjoy to see the Theodore Roosevelt National Park, trip the university in Fargo, or take a look at the Fort Union Trading Post National Historic Site.

Ohio: Take a walk down music's memory lane at the Rock & Roll Hall of Fame, visit the Dayton Aviation Heritage National Historic Park, or have fun on rides at Cedar Point.

Oklahoma: Enjoy the Natural Falls State Park, goto a video game at Oklahoma Memorial Stadium, or have a look at the Myriad Botanical Gardens in Oklahoma City.

Oregon: Columbia River Gorge National Scenic Area is stunning, downtown Portland is a fun place to stop, and you can always take a break at Cannon Beach.

Pennsylvania: You'll love Independence National Park and the Liberty Bell, the Hershey Park, or getting some history in at Gettysburg National Military Park.

Rhode Island: Why not check out Fort Adams, Brown University & Benefit Street, or the Culinary Arts Museum?

South Carolina: Check out Fort Sumter and the USS Yorktown in Charleston, tour numerous plantations, or unwind at Healing Springs and Miller's Bread Basket in Blackville.

South Dakota: Mount Rushmore is type of a traditional, see wildlife in Custer State Park, or walk back in time at the Ingalls Homestead.

Tennessee: Great Smoky Mountains National Park is stunning, Graceland brings Elvis to life, and the music scene in Memphis and Nashville is pretty difficult to beat.

Texas: Tour the Alamo, delight in some science at the Space Center in Houston, or walk the riverwalk in San Antonio.

Utah: Take In Arches, Zion, and Canyonlands in Southern Utah, ski in Park City, or have a look at Temple Square in the heart of Salt Lake City.

Vermont: Take the Ben & Jerry's Factory trip (ummm … who doesn't love ice cream?!), check out the Bennington Monument and Robert Frost's tomb in Bennington, or sample drinks on the Middlebury Tasting Trail.

Virginia: Visit Colonial Williamsburg, tour Thomas Jefferson's Monticello, or take in the solemnity of Arlington National Cemetery.

Washington: The Seattle Center, Mount Rainier National Park, and downtown Seattle are all fantastic places to go to!

West Virginia: Take a look at Seneca Caverns, enjoy Harpers Ferry, or rock climb in Monongahela National Forest.

Wisconsin: Take in a waterpark at Wisconsin Dells, check out the towns along the Great River Road (and enjoy the drive!), or tour the university in Madison.

Wyoming: Don't miss out on Grand Teton National Park, marinade in the flavor of the American West in Jackson, or take in some history at Fort Laramie National Historic Site.

As you can see, there's never an absence of fascinating and enjoyable places. From east to west, and north to south, this nation has a lot to provide! Does not reading this list make you itch to get out and see more of it?