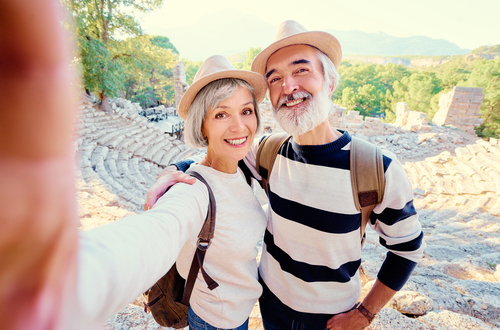 03 Apr

Senior Tour ABCs

Senior years bring plenty of things, but hopefully they give some time to travel, and we've compiled a list of travel ABCs for your perusing pleasure! Whether some (or all) of these put on you, we hope we can be the wheels behind your next adventure!

Vacationing. You might likewise use the new time away from the office (hello retirement!) for some much needed comfort and downtime.

Weddings. Grandchildren have a way of developing and beginning their own lives. You might be fleeing so that you can be there to witness them say "I do."

Xenophile. Travel calls your name if you're a xenophile! You are jumping at the bit to get out and be exposed to new ideas, philosophies, and customs that make up places foreign to what you're used to.

Yonder. You're here at all times, but there's something to be said for going yonder and beyond.

Advil, anniversary, and attractions. Bring along the Advil for those muscle aches after long days of exploring new places. See everything there is to see at your destination!

Bucket list. Everyone has some things they'd like to do and see before they die. Retirement life opens up the option to cross some things off the list.

Church assignments/community service. Sometimes you are taking a trip for civic opportunities or for service within your church community.

Discounts. Ummmm … who says that being a senior doesn't have any perks? There are discounts on airfare, at eateries, local attractions, car rentals, movie theaters and more! Benefit from lower rates!

Experiences. The one constant in life is change, but the experiences we've had and the memories we've made stay with us.

Food. Hello! What's better than familiarizing an area by the food it's known for? Use your travel as an alibi to become familiarized with new cuisine!

Grandkids. Ever heard that saying, "If we had known that grandkids were so much exciting, we would have had them first"? Senior years are a great time for travel and hanging out with the young folks in your family.

Hotels. Sleep is a great thing, and getting a place where you can catch some needed winks after a day of seeing the sights is important.

Insurance. You might take into account getting some travel insurance!

Junket. Nothing like packing up, shutting the house up tight, and departing on a junket!

Kinfolk. Retirement should at least mean more time with the people you love the most. Having time to visit siblings, kids, and others you love is an enjoyable thing.

Location. It's just about where you're going, and there are many choices to select from!

Medications. It's a great idea to take extras of medication, and also crucial to check prescription coverage, especially if you travel to another country.

National parks. Getting out seeing the beauty in our country's backyard is rejuvenating and refreshing for the soul.

Opportunity. You never know the number of more tomorrows there are, so take the chance today to get out and do those things you've always dreamed of.

Packing/photographs. Packing light makes the going easier, and bringing the camera along so you can take a number of photographs is a bonus, too.

Quality. Putting in priority what it is you most want from your vacation will help you come away from your travel experiences feeling like it was time well spent.

Retirement celebrations. What's fun about retiring if you can't celebrate the milestones with others who are in the same boat?

Smart phones. These days, it's hard to believe what that little gadget in your pocket can do for you when you're navigating new places. Need directions from your hotel to a local attraction? Need to find the nearest supermarket?

Tour operators/transportation. Transportation is our name (it's what we do), and we usually partner with tour operators to be the wheels behind sightseeing tour adventures! Get in touch with us today to book a coach for your family reunion or group of friends!

Unexpected. You never know what you're going to encounter when you're on a new adventure. A new connection you hadn't seen before? There's nothing like travel to bring the unexpected.

This is what you want to do when the vacation is over and you come back home. And since you don't have to be at the office at 8 a.m. the next morning like you used to, you can hit the snooze button and sleep in!