29 Mar

SAFETY GAMES

This April, each motorcoach operator will have the opportunity to win up to $275.  All you must do is drive safely as you have been trained!

There are four teams and four coaches.  Your coaches for Safety Games are Yolanda Pitchford, John Anderson, Greg Rogers, and Jeff Rogers. 

Here are the prize opportunities: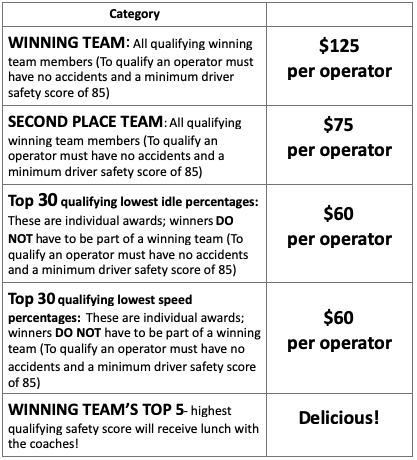 Get your safety game face on there are prizes and pride up for grabs!
Jeff

Greg

John

Yolanda

Oakley, Nathan

Hill-Green Armatha

Ramirez, Zona

Burkes, Yolanda

Murillo, Alberto

Warren, Gary

Ross, Frank

Davis, Nechelle

Wilson, Abazi

Garcia, Barbara

Brown, Linda

Rockward, Rachel

Lindsey, Angela

Tuffley, Arvind

Frank, Jamal

Tanner, Myrtle

Allison, Brittany

Cloud, Kim

Glass, Craig

Felder, Lanora

Alpan, Alphonse

Canady, Javon

Anderson, Demarkus

Davis, Sarah

Davis, Keith

Chaney, Echo

Bailey, Dowonda

Rideout, Reginald

Boyce, Atoyia

Butler, Tarsha

Ridgway, Dameisha

Fleming, Mavis

Nellum, Kendrick

Lewis, Curtis

Weatherspoon, Veronica

Dinwiddle, Pedro

Williams, Gail

Perry, Lakeshia

Dixon, Mytees

Tristan, Matthew

Jones, Chareisa

Willis, Jerry

Mike, Bridget

Gage, Edith

Sharp, Karen

Dugas, Danielle

Shelly, Glen

Hicks, Rasheeda

Robinson, Trametriia

Tobert, Princess

Clark, Rosalyn

Merritt, James

Roberts, Russell

Fyles, Andrew

Hatter, Amber

Williams, Joseph

Tates, James

Butler, Alice

Westmoreland, James

Hannor, Shona

Gamble, Oneal

McAdams, Leshaundra

Tarkowski, Herman

Hawkins, William

McLauglin, Jeff

Darnell, Calvin

Carr, Leishen

Manor, Darrel

Hutchinson, Charles

Flakes, James

McNeal, Johnell

Martial, Amanda

Morey, Ravindra

Jackson, Kendrick

Wright, Eldridge

Jones, Larry

Duhon, Ashton

Beasley, Lora

Williams, Linda

Miller, Ida

Simmon, Semond

Smith, Kisha

Young, Karen

Gibson, Damari

Price, Harold

McKnight, Martesha

Willis, Dwight

Gurra, Melinda

Mays, Lawrence

Milton, Daphne

Jones, Kimberly