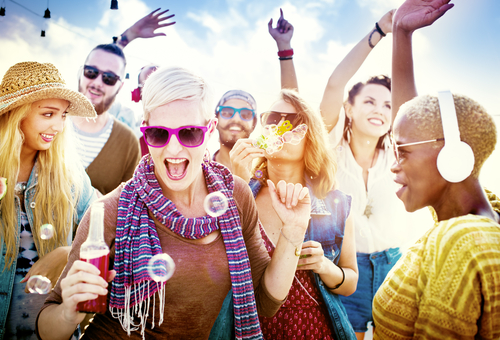 23 Apr

Make It Out Alive: 10 Guidelines to Survive Summer Music Festivals

Are you getting ready to attend your favorite music festival you hit each year, or a newbie preparing to have the festival experience for the first time? This article is for you if you're one of those people that like to think in advance to make sure you've packed everything you need. It's often easy, in the hustle and bustle of going out the door, to forget things you'll miss later. Listed below are a couple of quick tips to consider.

PLAN AHEAD BECAUSE YOU 'LL WANT YOUR OWN

While festivals usually have a free drinking water source and somewhere to head to the bathroom, there are certain things you'll want to have your own supply of.

You might be mindful of sun exposure; chances are you're going to get some anyway. You don't want to be uncomfortable from getting too much sun and this is an easy fix to plan ahead for.

There are bathroom facilities; you might consider bringing your own supplies for sanitary purposes in case there isn't toilet paper or feminine hygiene items. There is nothing worse than using a glorified outhouse and not being able to wash your hands. What do you do about this? Simple. Bring some hand sanitizer. You can get big bottles to keep at your campsite, and pocket-size ones to take with you when nature calls.

A number of other smart ideas that aren't things you must have, but which might be helpful: ear plugs to drown out all the potential noise if you're aiming to get some sleep (and yeah, make it a point to at least attempt to get some sleep or you'll feel horrible by the time the weekend is over), mosquito repellant, a hat, some chapstick, and a camping lantern or small flashlight to help you get around once the sun goes down. Also, in this day of phones and tablets and GoPros, remember that you're not planning to be in a place where it will be convenient to charge these devices, so you'll want to think ahead about that also if you're going to bring them. Keep in mind, though, that you may only want to bring things that you can physically keep on your person so you don't take the risk of them getting stolen.

A NUMBER OF OTHER THINGS

If this is your plan, come up with a meal plan for the few days you'll be there so you'll know how many coolers you need, how much ice to get, and how many 12-packs you need to purchase at the store. If, however, you're just planning on getting food from vendors at the festival, know up-front that it can get expensive pretty quickly and you'll want to budget money for that. Sometimes it's the last thing we think of, and you don't want to miss out on the whole reason that you went because you get heat stroke.

Even though it may seem deceiving because it's liquid, you're actually not hydrating your body when you drink it– or any other substance-loaded beverage, for that matter. You don't want to get so slammed that you won't remember the bands you came to see. If you decide to drink, keep it in moderation.

Hopefully by thinking about these few simple tips when you're planning, you'll be able to leave the door with confidence and have a safe, fantastic and fun weekend. Who knows? Maybe you'll end up viewing a band that will be the next one to make it big!