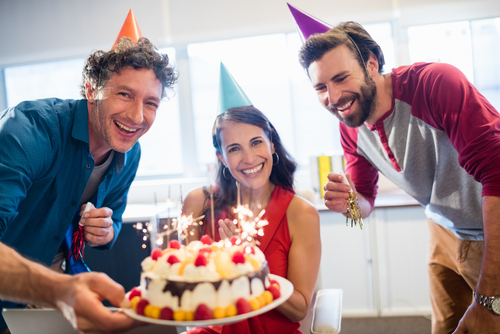 23 Jun

Great Ideas to Celebrate a Birthday at the Office

There were actually probably a minimum of a some people who watched The Office when Steve Carell enjoyed the character of Michael Scott and hilariously messed up his way through his head management position at Dunder Mifflin. And if you observed the show, you probably remember that painfully hilarious episode when they celebrated Meredith's birthday. Always remember the card Michael gave her? "Let's hope the only downsizing that happens to you is that a friend downsizes your age." Mmmmmmmk. That could be funny to watch on a TV episode, but that would be horrible in the real world. If you're seeking some better options for celebrating employee birthdays at your office, here are some recommendations we hope you'll enjoy.

Get something that will spring out of their drawer when they open it. Send them on a birthday scavenger hunt all over the office to retrieve the stuff that's missing from their desk drawers. And hey, it's never a bad idea to create a HAPPY BIRTHDAY screen saver that will be the first thing they see when they turn their computer on in the morning.

Get all of your employees to leave a voicemail and call on their private work line after they've gone home the day before. And instead of just saying the standard, "Happy Birthday," have them share a favorite memory with that person. Maybe it's the time they answered the phone with the wrong phrase because they were thinking of something else, or the laugh that was shared after a really awkward interview.

On the week that their birthday falls, let them come in an hour later than normal. Instead of having to be there at 8:00, allow them to come in at 9:00, but pay them for that extra hour anyway.

In today's world, people hardly ever take the time to write something with a pen anymore. Say that you care by having everyone in the office write their birthday greetings down, and then find a fun way to compile the wishes.

Find out what their favorite breakfast joint is, or the place they always go for lunch. You can shut down the office and take everyone out to eat, or just order takeout and have everyone come to the break room to enjoy some downtime.

Have some pleasure. Everybody works together, but it isn't very often that people get to disconnect from the norm and know each other a little more informally. Reserve a coach with us and take everybody for an activity: go bowling, mini golfing, to the movie, or just out to eat.

Get some of their favorite treats. Give them a gift certificate to the best local steak house. Get some movie tickets.

After that time you're trying to celebrate birthdays in your office, we wish these particular concepts will help you eliminate repeating something akin to Michael's class act. And hey, we hope they give some fun and laughter, too.