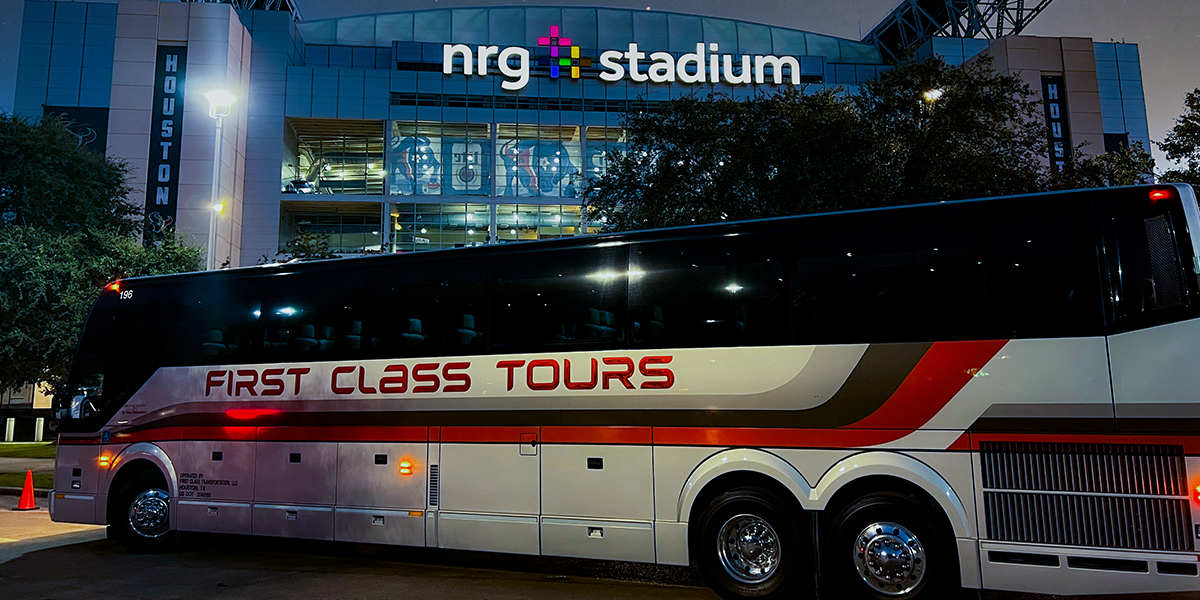 21 Jun

Event Transportation with First Class

Have you decided to take a trip to the rodeo or go to a big concert with a large group of people? Maybe you're going with a church group and need to figure out how to transport everyone with ease, or maybe it's your whole family as part of the upcoming family reunion. Or, maybe it's just a big group of friends who are coming together for a great time. Whatever the arrangement of your group, getting you to the rodeo is a piece of cake for us. Whenever you need event transportation, First Class is here for you.

Here are some of the reasons why we know a motorcoach will be the best fit for your transportation needs! To begin with, aside from all the other benefits, it's simply more fun. (We thought we might as well put that out there at the very beginning.)It's always fun to get together at a function with a bunch of people you love to be around. Reserving a coach makes it possible for the good times to begin far before you ever arrive at the destination. As we drive the miles, you can spend time together, talk, laugh, and make memories. Since you won't have to worry about the road, you can focus on each other.

It's less hassle. Normally, with a big event, you've got to coordinate transportation for several vehicles. This means making sure everyone knows where to meet up with the group upon arrival, has directions, parking permits (if necessary), and someone to call if they get lost. A motorcoach removes all of that hassle. Keeping everyone together and not having to worry about parking for multiple vehicles is a nice break!

You can stay connected with power and WiFi.Our coaches come with this amenity for our customers! If you still need to send off a few work emails, not a problem! You can shoot those off while en route. If you want to post some highlights from things that happened at the event when you're on your way home, you can easily share those things on social media as we make the drive back.

There's space for luggage! Our coaches boast ample undercarriage space to facilitate anything you need to bring along. Need to bring luggage for 50 people? No problem! We can fit all the suitcases, as well as any extras (food, for example, or camera equipment). We specialize in moving large groups of people with ease, and storage space is one of the perks we offer!

With so many people traveling together, it's hard to coordinate bathroom stops. With a coach, this is something you simply don't have to worry about. We have a bathroom on board, so if one of the kids needs to go to the bathroom, even though you just barely made a stop for treats at the gas station, there isn't a need to stop again. Or, if someone gets sick to their stomach, they can use the bathroom without having to delay travel time.

We have entertainment options on board, too. Sometimes it can be helpful, especially if you are traveling with young children, having something that will keep people entertained. For example, our coaches have video screens on board, so you can watch movies and help the miles go by more quickly. Folks are more likely to get cranky if they're bored, and this feature helps take care of that situation.

Event transportation with First Class is simplified! We hope that next time you are trying to get everyone to the rodeo or a big concert, you'll let us be the wheels to get you there. You can rest assured that safety, convenience, and professional service are the name of our game.