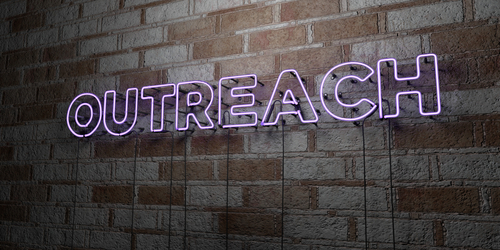 09 Jun

Enhanced Outreach. More Effective Ministries.

There is no arguing that for many churches some of ultimate difficult points to set up a regular outreach program. Here are some concepts to help get your outreach program started and help move your missions along.

General
• Host a free garage sale in your neighborhood
• Give free lunches to firemen, construction workers, and servicemen
• Provide meals, cookies, gift baskets and other treats in the teacher's lounge at an area school
• Distribute free candy (kids) and gum (adults) at a parade or mall
• Clean up the yards of widows and stay-ins in your neighborhood
• Have a booth at local fairs and events with small gifts to provide
• Give out free bottled water at a busy traffic intersection, fair, or waterpark
• Plan a "Back to School Party" for foster care children. Free food, games, and a backpack/school supply giveaway
• Provide donuts and coffee to field workers during planting time. Offer sack lunches during harvest
• Allocate free donuts and hot chocolate at a city bus or transit station
• Offer rides to those who may not have the capacity to come to church without help
Nursing Homes & Assisted Care
• Deliver fresh flowers and a "listening ear" to the residents
• Provide a church service at a nursing home
• Provide to read short devotionals and pray for residents
• Throw a "Senior Party" complete with live music, food, games, and decorations

Special Needs Kids or Adults
• Hold fun days for children with special needs and their families to relax and enjoy themselves
• Start a pen-pal program with special needs people. Write letters and send small treats

High school
• Give a few of your time to tutor children at a school in your area
• Give free watermelon to high school football teams
• Have a free car wash for the faculty
• Start a prom dress exchange so teens in need can feel special on that big night.
• Have a "Teacher Appreciation Day" giving gift baskets
• Serve free hot breakfast to students before the school day begins

Inner City
• Sponsor a fan drive. Collect and distribute box fans in the summer
• Serve hot breakfast for the homeless in your locality
• Have a women's health fair where women can get important information about health issues
• Do a community trash clean up
• Provide women in shelters haircuts, manicures, help in writing a resume, job interview skills, computer basics, etc.
• Volunteer with Habitat for Humanity to build a home for someone in need
• Host a "Block Party" with free food, games, music, etc. for families
• Paint or fix up a run down school
• Do a door-to-door grocery giveaway
• Organize a graffiti clean-up day
• Have a "Free Grass Cutting" day

Hospital
• Provide free coffee, energy drinks, and snacks to staff and those waiting in the emergency room
• Serve healthy snacks to patients of chemotherapy
• Deliver small gifts to patients and families in the children's ward (toys, care packages, etc.).
• Send clowns, balloon artists, magicians, etc. to visit with children.

Kids.

Leaf Raking – This kind of servanthood evangelism inspires kids to think like Jesus. Get your rakes and off you go!

Sports Camp— Have a local sports figure to offer a sports clinic for your kids. Ask a local grocery for free drinks.

Game Day— Have kids bring their favorite board games. Hold a tournament and give prizes.

Art Day— Invite a local artist to teach art basics.

Puppet Show— Take your puppet team to the city park and hold a sidewalk circus. You can also have circus-type acts, clowns, and balloons. Invite visiting children to come to your church.

Deliver free pumpkins – Have kids ring a doorbell (with a grown up, of course) and offer someone a free pumpkin.

Music Day— Have kids bring their own instruments for a band. Have a kazoo marching band.

"Green" Day— Teach about reuse, reduce, and recycle. Have kids plant trees in your community.

Coordinate a paper drive – Communicate the ecology message from the standpoint that God created the world and gave us authority over it.

Kite Day— Supply kite-making materials. Serve families pizza or hot dogs for lunch.

Special Guests— Honor friends by having children give their guests a helium balloon.

Host a petting zoo or a parade of your favorite stuffed animals? Maybe a live pet show?

Summer Outings: Go to the zoo, a children's museum, or a farm. Hold a day camp with planned activities like crafts, cooking, games, and stories.