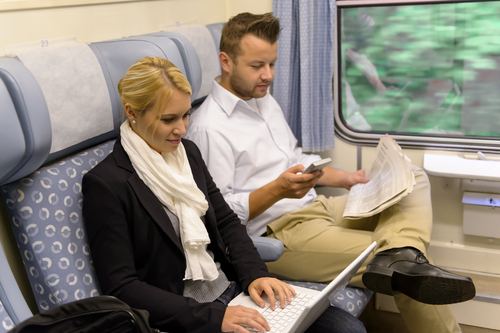 26 Feb

Employee shuttles are taking Texas by storm. Here are 7 benefits you may not have thought of.

Commuter shuttles aren't just a tech trend; Texas businesses through all industries are noticing real benefits for employers and employees alike.

1. Increased productivity & total satisfaction
Any way you look at it, whether your commute is 15 minutes or 150 minutes, taking back the time that you spend driving and making that time productive is a powerful benefit of a shuttle. Offering amenities such as Wifi and power outlets turns drive time into work time.

2. Decreases the hurdle of government compliance
The future of legislation is understandable. States are moving to push large employers (often defined as operations with as few as 20 full time employees) into offering company sponsored transportation solutions that minimize Single Occupancy Vehicle (SOV) travel. In nearly all cases, a company sponsored employee shuttle not just meets this requirement but also observes objectives to lessen pollution.

3. Company reward for recruiting and retention
There is no question that the commute to and from work is a very genuine factor in figuring out a potential employee's need to take a job. With major metropolitan areas just like (big city near client) with traffic that can make commutes into hours of sitting on a packed freeway, these shuttles are more than green, they are a powerful recruitment and retention tool. Top talent are frequently as thinking about the quality of life that a new job will help them get as they are concerned about the compensation and a shuttle will be a precise improvement for any commuter.

4. Qualify for IRS non-taxable Fringe Benefits
Section 132(f) of the Federal tax code allows tax-free transportation fringe benefits of up to $130 per month per employee for transit or vanpool expenses. Employees obtain more from tax-free transportation fringe benefits than from a comparable salary increase since they do not pay federal income or payroll taxes on the value of the fringe benefit. Find out more from the National Center for Transit Research.

5. Go Green
In a recent survey by Time Magazine, 40% of consumers expressed that they make buying decisions depended on the social or political values of the producing company. Going green is simply good business and an employee shuttle goes a long way to suggesting your commitment to a better (and greener) tomorrow. A well-executed shuttle program not only drastically diminishes your company's carbon footprint, but it also gives you a new way to target potential customers.

6. Cost savings
Any big employer who has ever aimed to tackle a robust employee mileage reimbursement program or a company vehicle program understands that the suggestion of giving a shuttle in lieu of these difficult and expensive to apply programs may be a cost (and headache) savings. Employee shuttles are managed by a service provider including insurance, drivers, dispatching, route development, ridership evaluations, and more.

7. Stronger workplace satisfaction and corporate identity
Stating that motorcoaches and employee shuttles provide a team building experience may seem like a stretch at. On the other hand, in truth, it is among the key fringe benefits of a program. These charter bus Texas provide employees time to be together, to talk and become more familiarized with one another. This leads to a tighter knit group of employees who all share a passion for your company and the services you offer them. Besides being labeled as a great place to work, these shuttles will help you bring your staff together to create a team feel that is hard to accomplish in any other way.

When you give point to consider to planning a shuttle for your employee, there are many things to consider with budget being only one of them. Employee shuttles take many shapes and can be difficult to plan.