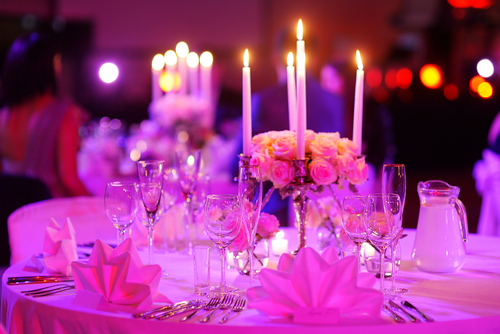 05 Apr

Choosing the perfect Texas wedding and reception venue

IS CHOOSING A WEDDING VENUE MORE IMPORTANT THAN CHOOSING A DRESS? YOU WEDDING OR RECEPTION VENUE SHOULD BE THE PERFECT BACKDROP FOR YOUR BIG EVENT, BUT HOW DO YOU MAKE SURE THAT THE BACKGROUND COMPLEMENTS YOUR WEDDING DAY AND DOES NOT COMPLICATE IT?

LOOKING FOR WEDDING AND RECEPTION SITES AND VENUES THAT FIT

More than any other part of the wedding, your reception represents your unique personality. Whether you choose an elegant evening gala or a festive afternoon soirée, an indoor ball or a southern-style outdoor affair, your reception involves careful planning, an abundance of patience, and a plethora of time.

With dozens of wedding venues to choose from, deciding where to hold your event will likely be one of the most difficult decisions of your entire planning process. Start making a list of wedding locations at least a year in advance. Ask for recommendations from your wedding planner, family, friends, and colleagues. If you plan a church wedding, ask your ceremony contact for suggestions. This is a good way to find wedding venues close to the ceremony itself.

CHECKING OUT POTENTIAL WEDDING AND RECEPTION VENUES

From your narrowed list of wedding locations, schedule time to visit each venue. Find out if the venue plans multiple events for the day of your wedding.

Once inside the venue, pay special attention to its size and layout. Some reception halls may claim to accommodate 200 guests, but how closely will these guests be packed together. Comfortable guests are happy guests.

Keep in mind that a space too large may lose its intimate feeling while a space too small will be too cramped. Make sure your venue has enough space to move around.
Next, draw a mock layout of the venue or ask the location's manager for one. This will enable you to see where the guests will sit for dinner, where the cake and food will be located and where the bridal party will be positioned.

Note the dance floor's location and stability. If it is too close to the cake or too unstable, you may end up with a disaster. Additionally, your dance floor's size should be proportionate to the number of guests you invite.

Plan to visit each of the finalists at the same time your reception will begin once you have narrowed your list down to two or three venues. Whether through planned or unplanned visits, these trips will enable you to see what your guests will see when they arrive.

While planned visits may be courteous, unscheduled stops provide you a way to investigate how well the staff treats its guests. If the venue is also a restaurant, eat dinner there to test the food and the quality of service.

ACCOMMODATING FOR INDIVIDUAL NEEDS

Before you reserve "the perfect" space, ask about any potential restrictions. Is there a specific closing time? How much will you need to pay the wait staff? Is the venue wired to accommodate a DJ or band? Can you have confetti or decorations? Are you able to bring your own caterer or cake designer? Where will guests be allowed to smoke?

Since environment and ambiance will help set the tone of your wedding, ask yourself if the location will accommodate the desired mood you want. See to it your venue matches the color and style you've already selected for your wedding.

If you envision an outdoor wedding where your guests will enjoy the beauty of the spring or summer, find out what backup plans the venue has in the event of inclement weather. Can you bring your event inside if it rains? Are mini fans available for unbearable heat?

Verify with the city that no major road construction is planned around your venue on the weekend of your wedding. Ask your location's manager if any renovations will be occurring before or during your reception.

Choosing a wedding location includes more than what location looks best. The small details of your wedding venue will make the most difference.