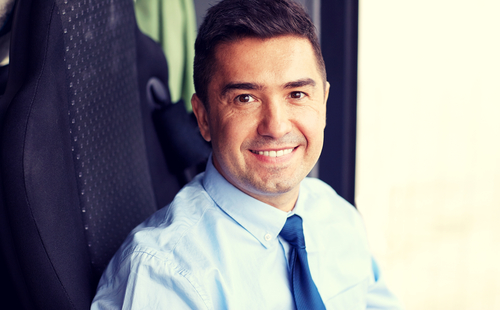 18 Apr

Supply a Shuttle to Your Employees

Bosses provide various perks for their employees: some keep the break room stocked with snacks (and maybe one of those fancy Coca-Cola freestyle machines where you can mix 100 different soda combinations), others bring lunch in on a regular basis, and some offer casual dress Fridays. Some grant employees spending money to use for food, and others make a big deal about birthdays and acknowledging effort from their team.

There's another option out there, though, another perk that can benefit your employees, especially if your office is located in a big city. Have you ever considered offering a work shuttle to those who work with you, a more convenient way to get to work in crazy traffic on busy mornings?

As a motorcoach company, we love partnering with office owners and managers to modify transportation plans to specifically meet their needs. Here are some of the reasons you might want to consider it if you've never thought of setting up a shuttle for your employees.

For beginners, it's an added advantage and makes the job you offer just another step ahead of the norm. A shuttle indicates your employees won't have to work out public transportation or pay for gas for the commute to work each day.

Second, it's nice to be able to avoid facing crazy traffic, particularly if your office is located in the heart of a busy city. Sometimes just coping with commute traffic is enough to make some of us angry, and offering this service means that your employees won't have to bother with it. They can focus on other things while we take care of the driving.

This is a great benefit for any of your employees who may want to plug in before arriving at the office for some last-minute prep. Regardless of what the reason, offering power on our coaches means that your employees can connect in en route and get a jump start before they even get to the office.

Some folks prefer to plug into social networking sites first thing in the morning to kind of touch base with the world. On the crazy mornings, when that doesn't happen before leaving the house, we make that a moot point by offering WiFi on our coaches as well. When gearing up for the day or unwinding when it's over, it can be nice for your employees to be able to surf the Internet on their phones or spend a few minutes on Facebook or Instagram to see what friends are up to.

Thus, next time you're thinking about offering another great conveniences to show your employees that you appreciate them, give us a call! We 'd love to sit down with you to assess what type of transportation plan would benefit your office. Our specialists are excellent at what they do, and we 'd love to assist make your employees' commute easy, stress-free and streamlined.