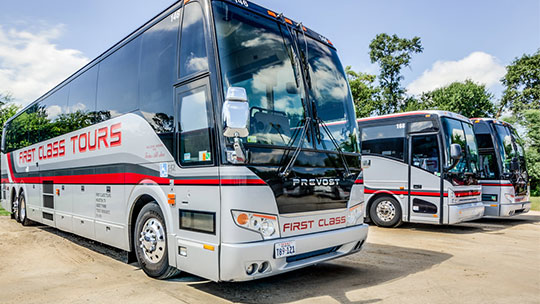 27 Sep

Motorcoaches Produce Great Shuttles!

There are merely some circumstances where making someone handle the transportation concerns makes the most sense, and eliminates a lot of stress, too. We often associate buses with city transportation or getting kids to school when we think of motorcoaches. One point that we don't usually consider is how fantastic they are for shuttle services. They are flexible enough to be suited to the individual needs of several businesses, while enabling to streamline transportation concerns in each case. Wish to know more? Brainstorm how you might utilize a shuttle for your company or family needs as you look at the following chances.

Is your daughter marrying soon, and you have to decide how to get the wedding party from place to place? Do you have to generate a way to get everyone to the reception at a location with limited parking? Do you have a number of attendees flying in that will all be staying at the same hotel? Whether or not you are trying to coordinate a way to get all of your guests to the hotel or get the wedding party to the practice session dinner in a timely manner, a motorcoach can easily look after all these concerns!

Are you an employer searching for a way to provide a better travel for your employees? Motorcoaches make things possible for employees to ride together to work, and can also give a chance to get work done before returning the office in the morning. Select coaches possess power and WiFi, which means that your employees can get a jump start on their day, or have the chance to unwind at the end of it when they're going home.

Are you starting a visitor center and need to have an excellent transportation system to deal with a high volume of people? Possibly you have to think of a solution that works with limited parking availability? Whatever your specific needs and concerns are, a motorcoach can help the whole operation run efficiently!

Coming up with better shuttle solutions for getting students from campus housing to class is a genuine concern if you are over the transportation needs at the local university. Coaches are a great alternative for transporting students and faculty alike around the campus community and you can customize them to include perks you may prefer to offer: WiFi, power, bathrooms, video screens, and individual reading lights, among others.

Is your family get-together around the corner and you have the assignment of working with all the details for effective ways to get everyone from Point A to several places throughout the week? Coaches are a simple way to streamline: keep everyone with each other, let the moments and laughter continue as you travel, and they can even do the shuttling to and fro from the beach back to the hotel room when babies have to nap and other member of the family want to stay out and keep delighting in the sun.

Are you on the church council, with a job to oversee the next activity for your youth group? It may not seem practical to have each family care for their transportation and a shuttle may be vital to get everyone there without difficulty. Coaches can take care of everything that the activity entails– whether it's a church choir commitment, a social work activity, or a cultural event that will involve a hefty bit of driving.

For whatever your family or business shuttle needs may be, you don't have to look further than a motorcoach. If you decide to ride with us, we know you won't be disappointed!