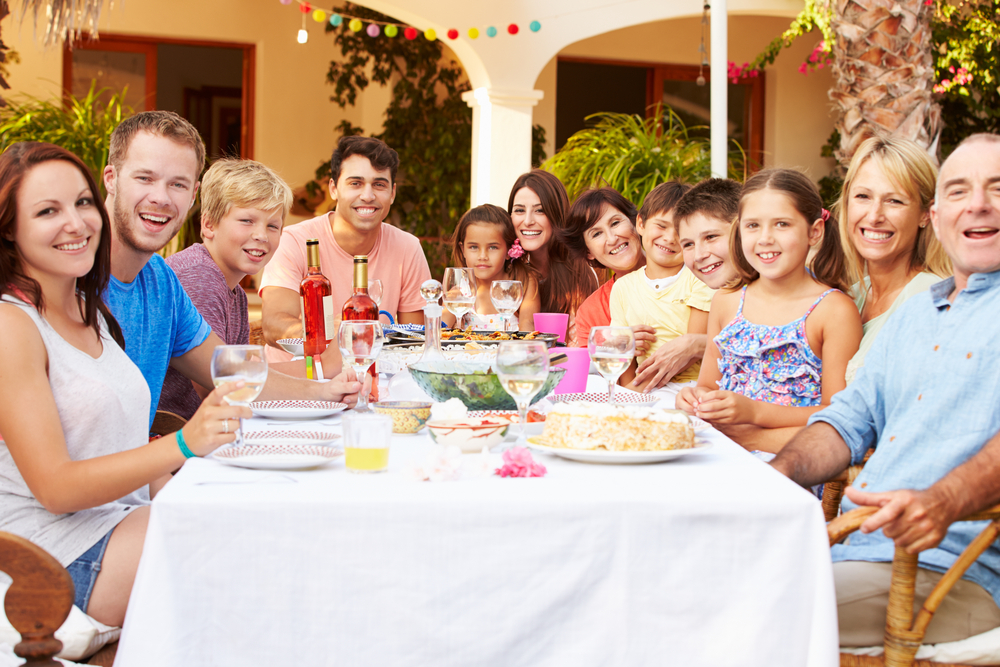 06 Sep

Do you live in Texas? Are you organizing a large family reunion? This is the complete checklist.

LARGE FAMILY REUNIONS CAN BE A MAJOR TASK TO PLAN AND MANAGE. THIS CHECKLIST WILL HELP YOU KEEP ON TRACK AND ON BUDGET DESPITE HOW BIG YOUR FAMILY MAY BE!

Large family reunions are fantastic occasions made to celebrate your family's long-lasting heritage and traditions, in addition to your family's future. These forms of reunions often span several generations, and include fourth and fifth cousins, maybe even more.
If you're intending a large family reunion, it's a great idea to start gauging interest and gathering contact information more than a year up front. Even more importantly: Assemble a team of relatives who will help you coordinate this large event and all the things that go with it. Here's a checklist to help you and your family get started!

12-18 Months Before
Set up a mailing list. Begin a database of mailing addresses, phone numbers, and e-mail addresses that you can add to and update regularly so you can get the word out. Consider starting a "group" online at Yahoo or Hotmail so you can easily stay in touch.
Determine interest of family members. Send out a family poll (by e-mail or by post) to gauge interest in a reunion, get an idea of the number of people might attend, determine potential dates, locations, and learn what their idea of the perfect reunion might be.

11-12 Months Before
Form reunion committees.
▪ Site coordinator: To create accommodations
▪ Treasurer: To keep track of expenses and organize fund-raising activities
▪ Culinary planner: To set up menus, schedule meals, contact caterers, and evaluate local restaurants
▪ Set designer: To take care of signs and decorations
▪ Events director: To plan activities and entertainment
▪ Reunion secretary: To coordinate communications and deal with inquiries
– Transportation coordinator
▪ Historian: To present family background when needed
▪ Photographer/videographer: To record the event
▪ Head housekeeper: For cleanup

Create a budget and bookkeeping system.
Begin fundraising. Large family reunions can get pricey for the organizers, even when each attendee is paying his own way. The following are some concepts to help you defray your expenses, or to finance the attendance of far-flung member of the family or people with special needs.
▪ Hold a family-only raffle, auction, or garage sale including unique items for sale including Grandma's quilts, hand-me-down furniture, kids' art, or memorabilia. Coordinate the sale on the Internet.
▪ Make a family documentary using movie-making software. Screen it at the reunion and sell copies.
▪ Ask for donations from family. Develop a reunion website over which donations can be made through a PayPal account, a secure online service that lets you to send and receive money with a checking account or credit card using only an e-mail address.

Research locations and facilities.
▪ Have your events director research places that cater to a variety of interests, age levels, physical abilities, and financial resources.
▪ The backyard barbecue may be the classic venue, but consider memory-making opportunities like a cruise ship or a dude ranch. Ocean or lakeside family resorts are ideal; there are things to do on both water and on land– activities to keep kids busy and lounging opportunities on the beach for grown-ups.
▪ Many vacation areas have a "destination manager" who can help you with the details of your reunion. Furthermore, hotels and resorts often designate one member of their sales staff as the reunion specialist.
– Ask your transportation coordinator to contact local charter bus companies and request for ideas of where they would recommend.

10 Months Before
Settle the date and location. Learn what amenities will be available: drinking water, swimming pool, grilling facilities, changing rooms, indoor space (in case of rain), picnic tables, etc.

Plan accommodations.
▪ Make a list of local accommodations and see if you can arrange a discount on a block of rooms.
▪ Consult your charter bus company and see to it that your dates don't have any major contravene availability of coaches and to get a feel for what the budget will be.
▪ Contact local family members to see if they'd agree to host relatives in their home. Compile volunteers' names and phone numbers into a list.

Provide a tentative reunion schedule, theme, and approximate cost per person.

Send save-the-date e-mail or mail out.
▪ Include a tentative reunion schedule, theme, approximate cost per person and accommodation options.
▪ Request information on missing relatives.
▪ Inquire on family traditions, recipes, and activities that you might want to include in your event.
▪ Request volunteers to help with planning, or bringing food, crafting supplies, volleyball nets, or other items for the group's use.

8 to 9 Months Before
Contact volunteers and share out tasks as appropriate
Hire a photographer.
Hire a videographer.
Hire entertainment– disc jockey, band, or other entertainment, if applicable.
Reserve accommodations.
Reserve Charter buses as well-suited.

8 Months Before
Schedule events and activities.
▪ Secure professionals or locations for your activities. For example, make white water rafting reservations, reserve a softball field, and hire tour guides or yoga instructors.
▪ Begin purchasing items you'll need for any crafting activities.

Schedule and plan meals. Whether you're doing a casual picnic, an extended camping trip, or a weekend in Las Vegas, you'll prefer to plan a menu and/or find reasonable restaurants that can accommodate large groups.
▪ Create a list of all the meals you'll be eating or the food you'll need.
▪ Assign one food item to each relative.
▪ Contact restaurants to see if they'll accommodate large groups and make reservations then if possible.

Finalize plans for reunion favors, video, family history pamphlet, or T-shirts. Family members will want something to keep in mind this grand occasion.
▪ Ask an artistic family member to design a T-shirt, hat, sweatshirt, or other personalized clothing item.
▪ Gather resources for your family history or video.
▪ If you decide to hand out favors, disposable cameras and matchboxes are two budget-friendly options that can be personalized for your event.

6 Months Before
Send invitations.
▪ Include finalized times, locations, maps, driving directions, accommodation options, costs, and a schedule of events.
▪ Include a sign-up option for specific activities, if necessary.
▪ Include assignments for relatives who have volunteered to bring food or other items.
▪ Include a request for photos and/or stories you would include in the family history or video.
▪ Include an RSVP date, along with an e-mail address, phone number, or mailing address to which they can respond. Ask member of the family to provide their accommodation or arrival information, if available.

5 Months Before
Start a list of those who have confirmed their attendance, where they'll be staying, and when they'll be arriving.
Reserve rental equipment such as a podium, microphone, tables, or chairs.
Start compiling and writing your family history pamphlet or video. You'll need to finish this four months before the reunion to have time to order the number of copies you need.

3 to 4 Months Before
Make final purchases.
▪ Craft supplies
▪ Decorations.
▪ Favors, personalized T-shirts, disposable cameras, or other items you plan to give out at the reunion.
▪ Other _______________________________.
Order copies of family history or video.

Two Months Before.
Confirm restaurant reservations and provide your latest guest estimate.
Confirm with relatives who are bringing food or other supplies.
Confirm meeting places.
Confirm activities.
Confirm sleeping accommodations.
Confirm transportation arrangements.

2 Weeks Before.
Contact restaurants with a final guest count.
Contact any professionals you've hired and confirm times, locations, and the final guest count.
▪ Photographer.
▪ Videographer.
▪ Entertainment.
▪ Activities coordinators, instructors, tour guides.

Review your final to-do list.
Buy last-minute decorations and supplies.
Create banners and signs.
Verify counts and timetables with charter bus company.
Make arrangements to donate leftover food to a local shelter or food pantry.

2 Days Before.
Review reunion minutiae with committees.
Put these together in different envelopes so you can quickly hand them out as needed throughout the event. Otherwise, a 10 to 15 percent tip is customary if it's not involved in their charge.

The Day Before.
Set up and decorate.
Get some sleep!

Within 2 weeks after the event, you'll need to:
Write thank-you notes to special attendees, relatives who donated time and money, and any other people who helped make your event a success.
Send additional tip money and remaining final payments.
Develop film. Don't forget to get CDs made so you can upload photos to ofoto.com or shutterfly.com. By doing this other family members can purchase copies of your photos.
Donate or distribute leftover favors, decorations, family history pamphlets, etc.

Within 4 weeks of the event:
Follow up with videographer and photographer to know when materials will be ready for distribution.

Send an e-mail or mass mailing to all who participated in, summarizing the festivities, thanking them for attending, and telling them where they can purchase photos, videos, or some other follow-up items from your event.