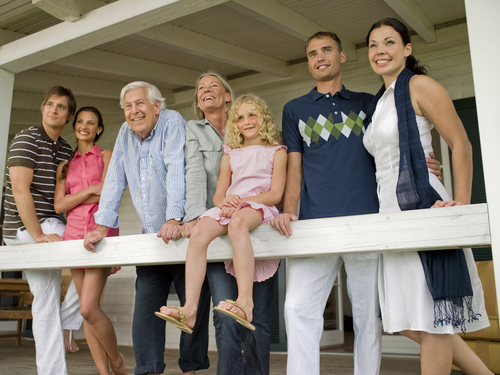 02 Jun

Kid-Proof Your Next Family Reunion!

WHEN THE IDEA OF QUIET FAMILY REUNIONS IS OUT OF THE QUESTION, THERE COMES A TIME IN EVERY FAMILY. WANTING TIME TO TALK AND LAY BY THE POOL, CATCHING UP WITH SEPARATED FAMILY MEMBERS IS LOST TO THE FACT THAT THE KIDS OF THE FAMILY WISH TO DO AS MUCH AS WATCHING PAINT DRY. AFTER HELPING TEXAS FAMILIES PLAN THE TRANSPORTATION FOR THEIR REUNIONS, THE FOLLOWING ARE A FEW IDEAS THAT WE HAVE FOUND REALLY IMPORTANT FOR PLANNING MORE KID-FRIENDLY REUNIONS THAT ARE SURE TO KEEP THE ENTIRE FAMILY ENGAGED AND LOOKING FORWARD TO YOUR NEXT REUNION.

Let the kids help organize. Are your kids tired of sitting around listening to family stories, being pinched on the cheek, and being force-fed family favorites? Why not let them in on family reunion planning?

Does your family reunion always take place at the same hometown park? Hold your family reunion at an amusement park, pool, or other fun spots kids may enjoy. If poor Aunt Nellie will be heartbroken, think about running shuttles to and from local attractions back to a central location (like her house) and let kids have the freedom to come and go safely.

Provide kids freedom to get involved, or not. Don't push kids into having fun with people they hardly know at the family reunion. Give them the freedom to make their own options about who to have fun with and which activities to take part in. Relieve the pressure. They'll have a lot more fun and so will you. This is your family. You don't need to impress anyone and nor should your child.

Why not create a kid zone at your family reunion? A family reunion doesn't have to be the sole responsibility of one person. Load up the car with carnival games, water balloons, a piñata, and kid crafts, even if you're not the official organizer.

The whole family can get into this fun family reunion activity. If you have tiny kids playing, separate by ages. There are a million ways to keep kids entertained and happy at family reunions.