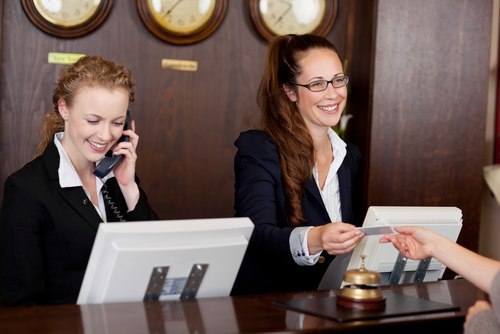 09 May

Houston Group Travelers Searching for a Various Hotel Experience

With today's emphasis on uniqueness, creative expression, and a less formal approach of doing things, big-name hotel chains are responding in like fashion by offering the caliber they're known for, while also making it cost effective and a bit more casual. Want the deets on a few of these chains and what they're doing to entice a younger audience? Check this out.

MARRIOTT HOTELS

Marriott has opened a new line of hotels already operating in various locations in Europe, with plans to expand into the United States in some of the major cities across the nation. This new line, The Moxy (moxy-hotels. Any time a guest uploads a picture to Instagram and hashtags #atthemoxy, it not only appears on the hotel's website, but also on a big screen in the main lounge area, a clever tactic to appeal to the younger generation's pull toward social connectivity, spontaneity and fun.

The design is welcoming, classy and sleek, with the aim of making you feel as though you're kicking back in your own living room for the evening. Combine that kind of comfort with affordable rates and you'll probably find yourself pleased as punch.

Or, want a different new experience provided by Marriott? They've also opened a sister chain to the Moxy, with similar features for being geared to the next generation, but with a relatively less informal feel. If you find their website (achotels.marriott.com), you'll find that the design is specifically what they proclaim it to be: inspired by European style and modern with crisp, sleek lines.

If you're booking a vacation and like to try out a new, exciting, more casual lodging experience, but with the class that Marriott is known for, try The Moxy or ACHotels. Either option will be sure to leave you happy, comfortable (you can't go wrong here), and likely speaking with your loved ones about how great it was to stay there.

HILTON

While Marriott's new strand is appealing to the younger generation, Hilton is trending toward offering a friendly, local experience. Each Canopy hotel is geared to be location-specific and unique art, culture, food, exercise, recreation and music options. No two Canopy locations will be the same because it is designed to reflect the specific community it is a part of.

A few of the other perks? Free Wi-Fi and breakfast, and something else that's cool? Guests have the opportunity to get a complimentary gift from the area, free food samples that highlight native eats, and even "foodiebags" that tempt your taste buds.

For a stay that shows a fresh, friendly feel, while extremely paid attention to the new trend toward appreciating local, preferring to stay at the Canopy will leave you feeling revitalized and appreciative of culture, more acquainted with the precise district you stayed in, and feeling like you belonged there during your stay.

RADISSON RED

Not to be outdone by her other high-end hotels businesses, the Radisson is delivering a new series of locations under the name of Radisson Red (radissonred.com). As the website proclaims, they aim to please the "millennial attitude" and everything from design to layout to functionality and flexibility makes every effort to suit and be satisfying to that demographic. And boy, do they pull it off!

From being able to do almost everything through the hotel's app to a big, open layout with art on display, a bar (open 18 hours of the day!) and deli combo, to rooms with a clean, energetic feel, you won't be losing out on anything if you opt to stay here!

In today's modern, fast-paced world, where things are continuously growing to accommodate consumer preference, the hotel industry isn't lagging behind. It's interesting and exciting to see how they are trying to keep in advance of the curb to offer attractive spaces with class at an inexpensive rate. Check them out, and prepare to be inspired by what you see!