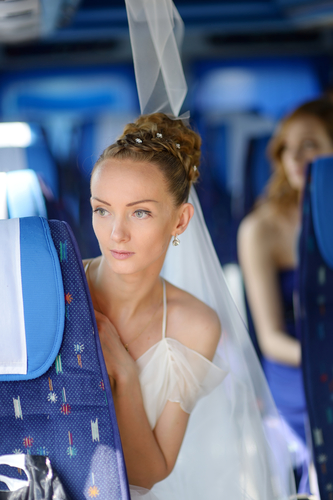 02 May

HITCHIN' A RIDE FOR TEXAS BRIDES

You don't want your uncle's DUI arrest to be one of them when you think of memorable moments from your wedding! Let your wedding guests relax and party without worrying about choosing an assigned driver by making sure that you have transportation to get them safely from the reception site to the hotel.

Shuttle your guests!

Hire a shuttle company to run shuttles to and from the wedding reception at specific hours if you can afford it. If your reception is from 6:00 to 11:00 p.m., you might have shuttles leaving the hotel (or ceremony site) at 5:45 p.m., 6:00 p.m. and 6:15 p.m. Then, have shuttles returning to the hotel at 9:00 p.m., 10 p.m., 10:30 p.m., and 11 p.m. Make sure to put information about shuttle times in the guest welcome packages.

Plan the pickup and drop-off!

If you have a small guest list, and you trust everyone to be ready on time, you might just hire one motorcoach to drop off and pick up wedding guests at one particular time. One of the biggest unexpected expenses during a wedding is time over runs on venues. Using a start and stop shuttle can help eliminate that big surprise after the night is over.

Book Smart!

When looking for a charter bus company, make sure to check for things like minimum hour requirements and charges for mileage, policies about alcohol on the coach and whether driver gratuities are included in the price or extra. Remember that budget is important, but the safety of your guests should always be your number one concern.

No Budget? Think Taxi.

If there's simply no way to work transportation into your wedding budget, then make sure to ask your wedding reception site to have taxis waiting at the end of the night. It's much easier to persuade a tipsy guest to take a taxi if that taxi is ready and waiting.

Preparing transportation for your wedding guests may seem like one more thing to-do in an already crowded list, but this kind of thoughtful planning will help your guests relax and enjoy their evening.