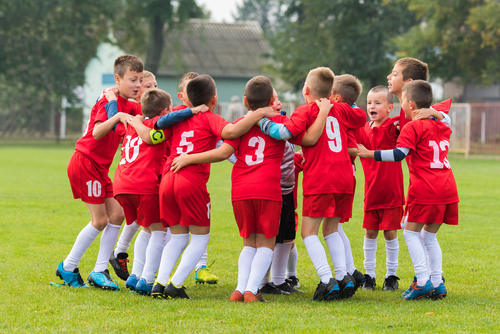 04 Mar

Commemorating the Victories of a Youth Sports Team

When your kids have participated in a full season of playing sports with a team, it's always kind of nostalgic as the year comes to a close. Whether you were the coach of the team, or one of the parents that was part of organizing team support and functions throughout the year, you possibly want to develop something special for these kids to commemorate the memories they've made through the year.

While this is really not a comprehensive list, we brainstormed to think of some ways you could celebrate a season of games well played, lessons learned, and friendships that were made up. Preferably this list can help you plan something special for your kids, or spark an idea of something else you might try as an alternative.

Have a team picture. They say that a picture is worth a thousand words. Years later, when they can't bear in mind specifics of a discussion or the details of every game, they'll remember friendships, loyalty, dedication and hard work as they look at photos of their team.

Create a t-shirt (or pajama hats, blankets, or pants) for each team member and all the coaches. You could put a photo of the team on the shirt, in addition to the team motto, slogan, or theme for the year. If it's for a school team, you can incorporate the school colors in the shirt, too.

Make a commemorative video. If you're putting something together to feature memorable moments of the season, ask parents to send in what they've captured. Once you have everything you need, you can put those clips together and choose some songs that will solidify the message you hope to convey through the experiences you've shared together.

Hold an end-of-year dinner. It's always exciting to have the team members get dressed up, have a nice meal, and take joy in a program together. They can take turns sharing their favorite moments, as well as talking about what they've learned or valued from their coaches and teammates. Also, if you made a commemorative video, this would be a great time to show it!

Prepare an outing or group activity. Maybe everyone on the team would love to go to a local water park or big theme park. From roller coaster riding to going down steep, tall water slides, screaming and laughing in fun together will additionally cement the bonds of friendship made through the year, and will establish memories they'll never forget for years to come.

Set up a group Facebook page. This is an ideal way for everyone to keep in touch, especially if the team is a group of seniors who are graduating and will be leaving in different directions in the world. Being part of an online community will keep everyone together, no matter how far apart they live. Also, if anything big happens that will be of significance to the group, this is an easy way to communicate quickly and efficiently to keep everyone in the know.

Make a scrapbook. You might think that you couldn't take that off, that you're not artsy or crafty enough. You don't need to be! Nowadays, you can create books online with programs that have easy-to-use interfaces for even the most amateur of users. Sites like blurb.comorshutterfly.com are great resources. You can upload photos, insert text, and play and rearrange with the layout until it looks exactly how you want it.

While this can be complicated because it will necessarily mean that you're going to have to coordinate chaperones, lodging, food, and transportation, among other things, it will also be an experience that no one will ever forget. We do team travel and vacations for big groups like nobody else.

There's one thing inherent in everyone to want to look for a way to reflect and celebrate on experiences that have been vital in our lives, and it's cool to watch our kids grow and develop through the ventures that they are associated with. As the year ends and you want to celebrate the team, we hope these tips will be effective to you.