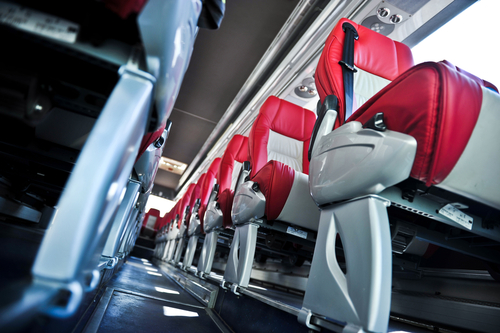 15 Feb

Coaches are Secure!

When you're going out for a group excursion, you might choose a coach because of several positive points:

• Motorcoaches efficiently fit large groups of people. It's no problem to bring the entire office, or get everyone together for a family reunion, or take a school group to see the orchestra. Everyone can travel together, you don't have to caravan in several vehicles, and there's no headache regarding refunds for gas to each of the drivers.

• You've usually got a designated driver. If you're going on a wine tour, or have reserved a coach for a bachelorette party before the special day, you can take pleasure in yourself without having to worry about everyone getting home safely.

• Coaches provide extra amenities. There are bathrooms on board, power, WiFi, individual reading lights, video screens and audio systems. It's easy to check in on social media, read email, watch a movie, or get some work done while you're on the way to wherever it is you're going.

• They're environmentally friendly. Coaches carry up to 57 passengers, which implies that they also potentially remove that many extra cars from the road, too. When you choose to ride in a coach, you choose to make a great decision for our planet, too.

But. Here's the point.

Each of these things are great, but we're missing a crucial point here, and that's safety measures. Coaches are safe, and here are just a few of the reasons:

• We are specific about who we put behind the wheel. So as for a driver to be hired with our company, they must meet our high presumptions and specifications. We don't want anyone who rides with us to ever be worried that their safety is risked.

• We observe safety standards. If you'd like to see our safety rating, do not hesitate to ask and we'll be happy to prove you!

• As part of being able to maintain that high safety rating, we stay up on routine maintenance checks. We want our equipment in top-notch condition!

Therefore, next time you're considering a group outing, you can see on your own that safety is among the reasons a motorcoach is the evident choice. And when you're setting up the transportation for your next journey, we'd love to come along and be the wheels for wherever it is you'd prefer to go!