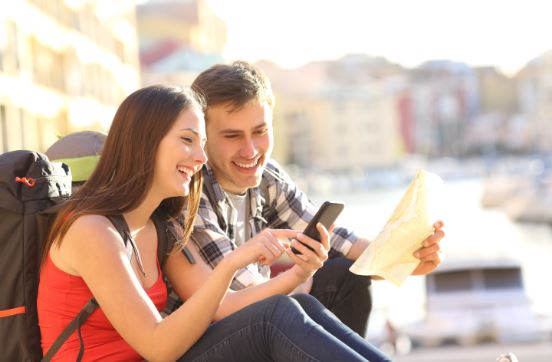 27 Feb

Check Out mTrip If You're a Tour Operator!

The Internet and smartphones have absolutely changed how we interact with the world: how we do business, how we shop, how we date, how we communicate and share information with other individuals– and the list continues. These tools have drastically affected the tourism industry as well. Now, more than ever before, attractions and maps, directions, hours, tour guides to many cities, reviews and trip schedules are available by just googling the information that you're seeking out. There are also all kinds of apps available for travel, spending time in new cities, and information about places to go and things to do.

It can be helpful to use apps to facilitate this scheduling. One app that is especially convenient is mTrip, because of all of the features it provides.

If you opt to do so, the app can showcase your company name. When your clients are using the app for their tour with you, they'll see your business name … pretty awesome to get to publicize your business while using mTrip's application.

If you're facilitating a tour for a group of people, one of the tasks you face is keeping everyone abreast of each day's schedule– where to meet, what the plan is, and how long each thing on the day's schedule will take. The app makes this super easy! You can list the plans each day for all group members, the time they need to meet at the motorcoach in the morning, where you're going, and if there are eleventh hour changes? No big deal. They'll be able to see that, too.

Clients can take care of all of their booking arrangements using the app— from flights to hotel rooms and rental cars. Travelers can check in, receive updates if any modifications to reservations or flights are altered, and generally be kept informed as to all of the arrangements they have made.

When you're in a new place, it's nice to have some suggestions of where to go and what to see. This app is fantastic for that! Even without Internet access, the app boasts directions and information on local hotspots, and it's also possible to read comments from others about individual places to see. If you are looking for great places to eat, top attractions to visit, or need directions and hours for a specific location, this app has all of that information in one place.

As an operator, do you prefer to have the chance to communicate quickly and efficiently with the members of your tour? Using the app, it is really easy to message each other and exchange information, just like texting. If they have an inquiry for you regarding the day's activities, booking the trip, have to make changes, or anything else along those lines, the app makes all of that a cinch. They can message you and you can exchange information easily … all inside the app.

Another plus? When we travel, we often want to share what we are seeing, eating, and experiencing with those that we love via social media. The app makes it easy to document what you've done on the trip, and share photos and information instantly.

For both clients and operators alike, this app has everything built-in that one could want or need. If you're an operator, it will simplify your life by keeping it easy to discuss with your clients and handle all of their arrangements. And, if you're a client, you can easily observe what is taking place for the day, ask questions, make changes, get directions, and get recommendations and directions for how to use the downtime you have on your upcoming trip.

And when you're completing the details for the upcoming tour you're getting ready to lead, we'd love to come along and provide the transportation for your group. We focus on professional customer service and quality, convenience, and comfort. Getting large groups around is our business, and we'd love to help make your trip a success!