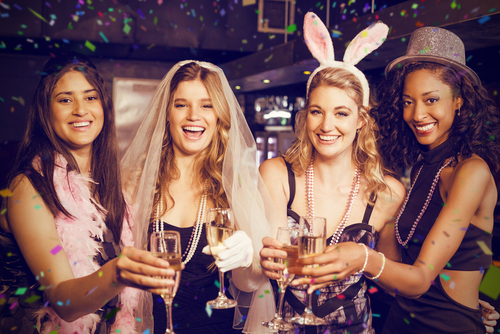 17 Mar

13 Ideas For Texas Bachelorette Parties

IF YOU'RE LIKE MOST BRIDES-TO-BE THE IDEA OF AN X-RATED BACHELORETTE PARTY IS SO … OVERRATED.. LISTED HERE ARE 13 TIPS THAT WILL MAKE YOUR BACHELORETTE PARTY EXCITING FOR EVERYONE.

If the thought of a night of heavy drinking, debauchery, and acting like a college freshman again leaves you thinking about the convent, don't give up hope on having a great bachelorette party. You, too, can celebrate a friend's last days of as a single girl in an all-out fun way that won't require marriage counseling later!

Ante Up
Why not hold the bachelorette party at a casino or racetrack? The great thing about gambling parties (other than the free drinks) is that someone may walk away with enough money to pay for the bridesmaid dresses, a wedding present, or– even better– another girls' night out!

Pamper Palace
Suggest a day or weekend spa event and send everyone running for their plush terry robes. You'll forgo junk food and alcohol, but those clean pores and exfoliated elbows will be worth it. Choose a full-service spa that offers everything from massages and mud wraps to manicures and makeovers. The bride will appreciate the stress-buster, and you all may find great new looks for wedding day.

Disco Inferno
If the bride was a tube-top-wearing ball of Saturday Night Fever energy in the '70s– or a Studio 54 wannabe, at any rate– why not whisk her off to a hopping nightclub? Whether she's into "Disco Inferno," "Come on Eileen," or something a bit more contemporary, find a place with the perfect special theme night.

Yee-Haw.
If she's a country girl, maybe the bride-to-be would like a good old-fashioned country night out. Take her for a honky-tonk night at a country and western bar– and bring your cowboy boots and hats!

Karaoke.
If you've forgotten the liberating feeling of making utter fools of yourselves, lip-synching will be fun for all. There's a reason kamikazes are served in karaoke bars. Do you really want to remember your performance?

Let Them Eat Cheese.
Fondue parties can be great, messy fun. Communal pots of melted cheese and chocolate seem to encourage giggles and gossip. Do this at home if you've got the equipment (and people willing to chop meats, veggies, and fruits), or you can reserve a big table at a fondue restaurant. Go ahead and indulge– don't worry about the calories. This is your night to get down and get cheesy.

It's In The Stars (and the Cards).
If the bride knows her Sun and Moon signs, plus her fiancé's rising sign, we can predict with almost perfect accuracy that she'll love a New Age party. This idea can be a big hit– and not just with the starry-eyed bride.

Coffee, Tea, or– Tea!
If your friend is a paragon of lady-like behavior (with just a few slip-ups about which she's sworn you to secrecy), she may appreciate a Victorian-style tea party, complete with lace doilies, finger sandwiches, petit fours, and scones. You can easily host a tea party in someone's home, or if you really want to splurge, go to a fancy hotel tearoom.

Scavenger Hunt.
You're adults, but that doesn't mean you have to act the part! A scavenger hunt (complete with clues and a treasure map) will bring out the child in all of you, and prizes can be as grown-up as you like (bottles of champagne or gift certificates for a massage, for instance). Use a friend's house or garden, and be as creative as you dare.

Send in the Clowns.
A comedy club may seem one step up from Chippendales, but it's a recipe for hilarity– especially when the stand-ups know you're there for a bachelorette party (marriage and mother-in-law jokes will fly!). Call the club in advance and reserve a front-row table. Tell them what you're celebrating, and ask about a group discount if there's a cover charge. After a few stiff drinks, even Al Gore could have you in stitches.

Where the Wild Things Are.
Does the bride love the great outdoors? Consider a back-to-nature bachelorette party. Call your state board of tourism to ask about campsites, then ring up locations of interest and ask about rental cabins or tents (if you come up empty, you can rent tents and other supplies at outdoor stores). Find out what activities are offered (hiking, canoeing, horseback, swimming, or fishing riding). Make sure all guests know what clothes, food, and accessories to pack– and most importantly, remember to bring toilet paper.

Cerveza, Por Favor.
Here's a sure-fire way to make the bride forget about what's-his-name: Take off for paradise. Depending on the time of year, you can get great off-season package deals on island vacations or cruises. Check with a travel agent about availability and special group rates. If guests are limited by their schedules, look into a trip that doesn't require much travel time. With a two- or three-hour flight, you won't waste precious time on a plane when you should be carousing at the tiki bar. If the bride can't fly the coop completely, think about a beach weekend or a few days of skiing at a nearby resort.

The Car, James.
Dance clubs, dive bars, pool halls, taco trucks– why choose just one? Explore them all in the lap of luxury: a chauffeured vehicle. Arrange for the transportation of your choice to pick up everyone at a designated location, and you're free to go where you please and drink as much as you please, feeling like important celebrities. Just make sure the night ends at the apartment, hotel, or house where everyone will be crashing, so no one has to drive home. , if a limo isn't your style– or your group is too big– consider a mini bus or a full sized motorcoach depending on how many people will be attending.